The Almanac of Shanghai-US Exchanges (2017)
Posted:2018-12-26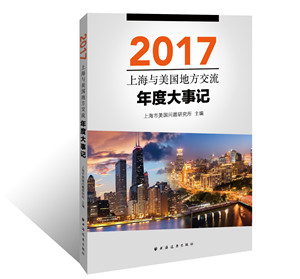 The second edition of The Almanac of Shanghai-US Exchanges (2017), compiled by the SIAS, was recently published by Shanghai Far East Publishers.
Capturing the highlights of cooperation between the two sides, the new book covers a wide range of areas, including culture and arts, education and academia, social sciences, foreign affairs, science and technology, economy and finance, and healthcare. The book also shows successful examples of collaboration both on governmental and non-governmental levels. Like last year, out of all entries within the publication, academic exchanges and educational cooperation involving various academic areas among universities in both Shanghai and the US account for half of the total 1300 entries.
By analyzing the cooperation between Shanghai and the US, this new book helps to shed light on some of the key features of the bilateral exchanges influencing both China's financial center and the US. First of all, the two sides have seen more frequent exchanges in a broader range of areas. Secondly, both sides have also promoted high-level exchanges, which involves actors from almost all sectors. Last but not least, while US officials have actively promoted exchanges, non-governmental organizations in the US have also shown great enthusiasm and inclination to participate.
Many individuals and government agencies have offered their help with the compilation work of this book, these include the Shanghai Municipal Commission of Commerce, the Shanghai Municipal Administration of Culture, Radio, Film & TV, the Shanghai Municipal Tourism Administration, the Shanghai People's Association for Friendship with Foreign Countries, and the Shanghai Academy of Educational Sciences.